Complementary Therapies
Please note, that Complementary Therapies are not a substitute for veterinary care, and should be used in conjunction with conventional veterinary treatment, and are therefore only available on referral by your vet.
ACUPUNCTURE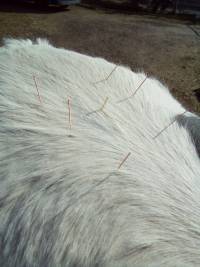 = a therapy in which fine needles are inserted in the skin at specific points along what are considered to be lines of energy (meridians), used in the treatment of various physical and mental conditions.
Acupuncture is part of the ancient practice of Traditional Chinese medicine.
The pathways or meridians create an energy flow (Qi, pronounced "chee") through the body that is responsible for overall health.
Disruption of the energy flow can cause disease.
By applying acupuncture to certain points, it is thought to improve the flow of Qi, thereby improving health.

Acupuncture can be used in all animals, and I have successfully used it for over 20 years since 2000 in a variety of animals such as cats, dogs, horses, cows.
CANINE BOWEN TECHNIQUE (CBT)
= a gentle, non-invasive yet effective light-touch hand-on remedial therapy for dogs of all breeds, ages and conditions, promoting healing, pain relief, and general body rebalancing.
It aims to support and boost the natural healing capabilities of the body.
During the subtle and relaxing treatment, the practitioner uses thumbs and fingers on precise points of the body to perform rolling-type moves over muscles, tendons and soft tissue.

Iím a qualified Canine Bowen Technique Practitioner since 2012, and have used this therapy successfully in many dogs ever since.
PHYSIOTHERAPY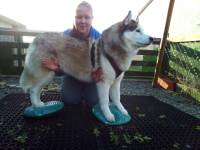 = the treatment of disease, injury, or deformity to restore, maintain, and make the most of a patient's mobility, function, and well-being by physical methods such as massage, heat treatment, and exercise.

I have used the times of lockdown during the pandemic to further my knowledge in physiotherapy, and have started offering basic physiotherapy treatments and advice since the end of 2020, mostly for dogs (occasionally also for cats and horses).
RED/NEAR-INFRARED LIGHT THERAPY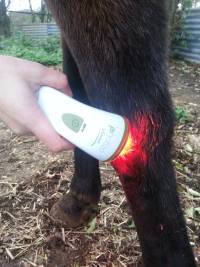 = a non-invasive and effective treatment working by energising compromised cells and increasing blood flow using highly beneficial wavelengths of LED light which can lead to quicker healing and recovery following injury.

I have used the times of lockdown during the pandemic to further my knowledge in this form of light therapy, and have started offering it in my practice since January 2022. It can be used in all animals
How might complementary therapies help my pet?
Complementary Therapies are holistic therapies and treat the whole body, not just the symptoms.

Common conditions that tend to respond well to complementary therapies:
Acute injury – sprains and strains
Degenerative diseases such as arthritis or hip/elbow displasia (as a pain management tool to improve the dog's quality of life)
Back problems
Lameness
Allergies and Skin conditions
Cystitis & Urinary disorders
Recurrent Ear problems
Aggression and other Behavioural problems
Stress & Anxiety disorders
Pre- and post- surgery – reducing recovery times
... to name but a few.
What will happen during the treatment?
An appointment will take approximately 60 minutes with the majority of time spend on finding out about any existing medical conditions, aches and pains, to get to know and assess the animal and to allow the animal to become familiar and relaxed with the therapist or to discuss and assess changes since the previous treatment.
The actual hands-on part of the appointment will usually take anything from a few minutes up to about 30 minutes.
Therapy is never forced on the animal.

Every animal is different, and the choice of therapy (or combination of therapies) is based on the individual patient.

One to three treatments at weekly intervalls are often sufficient to achieve noticable change, although further treatments may be required especially for chronic conditions.

I will give you certain advice concerning the care of your dog after the treatment, particularly with regard to rest, exercise and handling. Carrying out this advice is an important part of the treatment and can have an enormous effect on the outcome.

Please note, that Complementary Therapies are not a substitute for veterinary care, and should be used in conjunction with conventional veterinary treatment, and are therefore only available on referral by your vet.

For more information or to book an appointment, please phone 01595 890234 or 07900 201571

See also: Testimonials - Treatment Fees - Contact