click on photo to enlarge in new window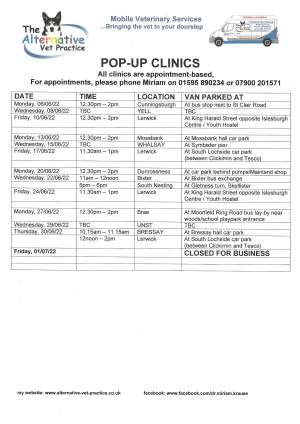 Contact
For further information, to discuss any issues or to book an appointment, please do not hesitate to contact me:

Dr. med. vet. MIRIAM KRAUSE MEGCBT, certECBS, MRCVS

Landline: 01595 890234

Mobile: 07900 201571
Address:
Miriam Krause
5 Stendaal
Skellister
Shetland
ZE2 9XA
United Kingdom
MOBILE VETERINARY SERVICES
- BRINGING THE VET TO YOUR DOORSTEP
The Alternative Vet Pratice offers a fully mobile service.
Appointments are available as home visits (including operations) or at pop-up clinics all over Shetland in a specialised mobile vet surgery van.

POP-UP CLINICS - to keep waiting times to an absolute minimum, all pop-up clinics are appointment-based!
If a pop-up clinic is not fully booked, I may arrive later or leave sooner than the scheduled times as I will then arrange for other work such as home visits during these times.
Therefore, to avoid disappointment, please try to always let me know beforehand if you are planning to come along by phoning 01595 890234 or 07900 201571!